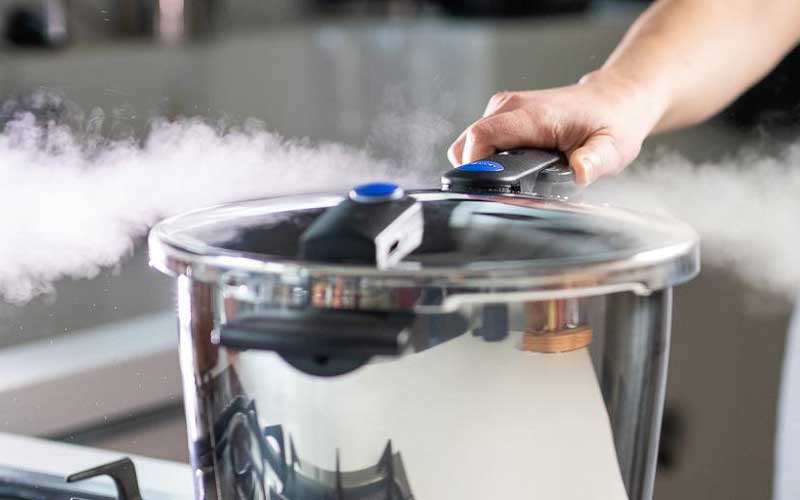 Wondering "What is there in a pressure cooker..?". Ask your mother, wife, or a chef about a pressure cooker. They'll give you a better explanation on how good and beneficial they're in the kitchen! Well, if you're someone who's into cooking, you'll know how easy these pressure cookers made our cooking ways! If not, you'll learn after reading this article!
A pressure cooker helps in cooking food in a better and fast way with its steam tight cooking procedure. As it requires less water and vapors tight pressurized cooking mode, a pressure cooker offers us more nutritiously cooked food. While selecting/buying pressure Cookers for your cooking, there is some stuff which is to be put into consideration:
Size should be portable.
Handles should be comfortable.
Manufacturing Standards must be high(ISI).
Nonstick body to ensure mess free cooking.
Manufacturing Company should be reputable.
Warranty period should be must.
Performance should be the best.
Price should be affordable.
You can't simply pick-up a pressure cooker from the market on the go. Not every pressure cookers are manufactured alike. There are factors that differentiate them. One of such important factors is their body. A pressure cooker could be either made out of stainless steel, Anodized Aluminium body or with just the aluminum. Each of these has it's own pros and cons to analyze. While Aluminium makes a pressure cooker look good, weigh less and comparatively affordable, it shouldn't be forgotten that Aluminium is a reactive metal.
There are chances that it may react with the food cooked in it. The stainless steel pressure cookers are much more effective in nature as it's nonreactive to foods and will be corrosion resistant. But these come with a comparatively heavier body and price. The anodized aluminum cookers benefit with efficient cooking results and in a lot, way stands apart from the other two models with its own pros, the weight is still heavy.
Top 5 Best Pressure Cookers in India 2018
Now I believe you understood, Pressure Cookers aren't 'just pressure cookers'! Let's see the top selling pressure cookers here in India along with their features that helped them tonascend themselves in the sales of global market.
1

Hawkins Contura Hard Anodised Aluminium Pressure Cookers
Cooking Capacity – 3 liters.
This material is made out of Anodized Aluminum which is super-strong in nature.
Has a stainless steel inner lid with an everlasting property.
Absorbs heat ensuring better cooking.
Comes with a pressure level controller helping you to keep the pressure controlled.
5 years warranty.
2

Prestige Delux Plus Hard Anodized Stainless Steel Pressure Cooker
Cooking Capacity – 5 liters.
Rated as the best 5-litre pressure cooker in Indian market.
Hard Anodized Aluminum body ensuring better strength.
Fit for induction stoves making the cooker compatible.
Comes with a pressure indicator to control cooking pressure.
Sturdy and safety handles for a secure cooking experience.
5 years warranty.
3

Prestige Delux Alpha Stainless Steel Pressure Cooker
Cooking Capacity – 3 litres.
Outer lid coated with stainless steel.
Euroclad base helps with better stability.
Fits for induction stoves.
Light handle ensuring a secure cooking experience.
Comparatively heavy in nature.
10-years warranty
4

Prestige Nakshathra Plus Red Handle Aluminum Pressure Cooker
Cooking Capacity – 3 litres.
Stylish in nature.
Aluminum body, hence may be reactive with acidic food items.
Has an inner lid.
Safety metallic plug for a secure cooking experience.
Fit for induction
5 years warranty.
5

Hawkins Stainless Steel Pressure Cooker
Cooking Capacity – 5 litres.
Flat base ensuring stable cooking experience.
Stainless Steel body.
Fit for induction stoves.
Corrosion resistance
5 years warranty.
The above detailed list of Pressure Cookers included a couple of best sellers in their niche in Indian Market. Hope you now got a fair idea of choosing which cooker is fit to give you the best whistle before food!