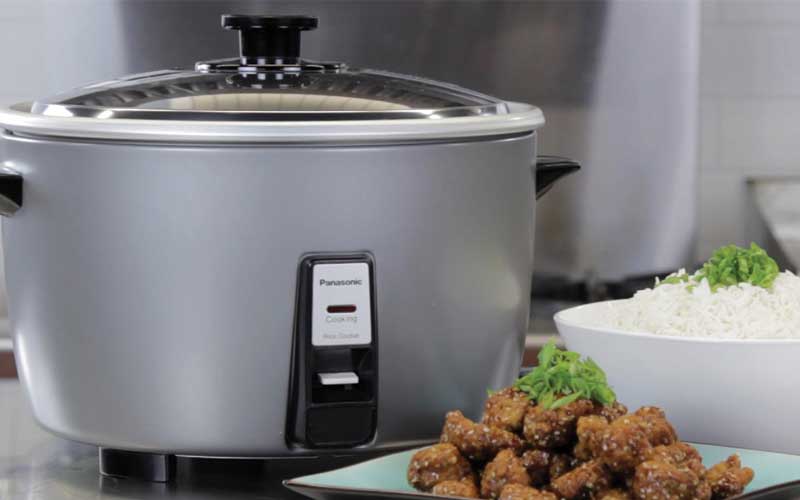 Rice cookers help in the easy cooking of rice in a jiffy. With so much advancement of technologies it has also become easier to cook and save time at the same time. Technology has come up to the kitchen too. Coming to rice cookers, one does not have to deal with the issue of going to a stovetop method for cooking rice as rice cookers from various companies has solved this muddle.
Top 5 Best Rice Cookers in India 2018
Keeping these entire features in mind, we have made it easy for you, and have listed the best rice cookers in India in this article.
1

Prestige Cute Delight Electric Rice Cooker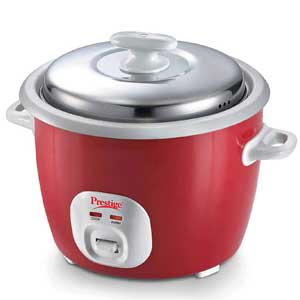 Besides cooking rice, this rice cooker can help you in making porridge, stew, soup, idlis, biryani, and fish without giving rise to any struggle of preparing these dishes. When the cooking is done, it changes the mode to 'keep warm' and you have a kg of rice prepared for your meal.
PROS:
Removable aluminum rice bowl to be washed with water
Easy to carry with a detachable power cord
Has handles that are a good conductor of heat
Comes with an additional cooking pan
Comes with a steaming basket
2 years of manufacture warranty
CONS:
The absence of a nonstick pan
Cooker body cannot be washed but wiped with a damp cloth
2

Bajaj Majesty Rcx1 Mini 0.4 Litre Multifunction Rice Cooker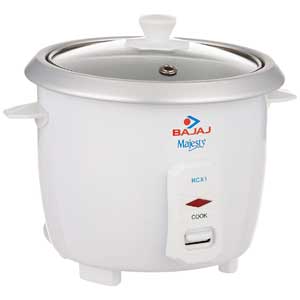 This Bajaj rice cooker is ideal for a family of two and bachelors. This has a transparent lid that helps in easy monitoring. It saves space and is easy to carry because of its compact size thereby making it one of the best rice cookers of India.
PROS:
Fit for travel purposes as it is light in weight
Can cook brown rice as well
Easy to use operational procedures
Perfect for cooking brown rice
CONS:
Not fit for big families because of its small cooker size
3

Panasonic Sr-Wa18 E Automatic Rice Cooker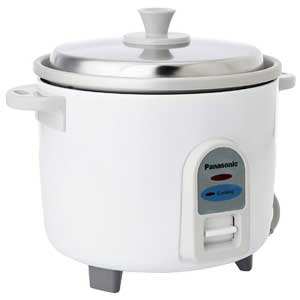 This rice cooker has a body made of a food grade premium quality that makes it safe for use. Made of anodized aluminum, the exterior of the rice cooker does not get heated up making it safe to touch even when on.
PROS:
Presence of lock in the lid to avoid accidental opening
Made of durable anodized steel
Presence of auto cook-off to avoid overcooking
Consumes low power and is energy efficient
Ideal for a small family
CONS:
The absence of a digital timer
4

Panasonic Srwa18ghcmb Rice Cooker Combo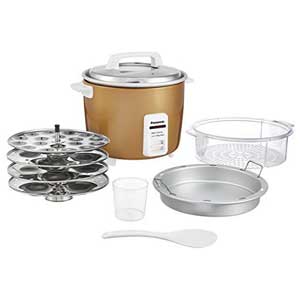 This rice cooker is designed with an integrated Japanese technology that works very coherently.  Having a power consumption of 660 watts, this rice cooker becomes very easy to cook Indian menus other than just cooking rice. Comes also with a transparent upper container that makes you see the cooking procedure.
PROS:
Comes with a warranty of two years from the manufacturer
The cooking pot is anodized and designed with aluminum
CONS:
The product does not have any auto timer
5

Pigeon Rice Cooker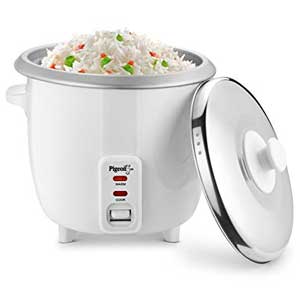 Pigeon also makes good quality rice cookers in India. This rice cooker has automatic on and off modes for cooking rice or any other simple Indian dishes. Available at an attractive color and reasonable price makes this rice cooker a must buy for many Indians. This rice cooker comes with a capacity of 1 liter and is good for use in nuclear families.
PROS:
Easy to use
Easy cleaning of this rice cooker
Food remains warm even after power off.
Comes with two years warranty given by the manufacturer