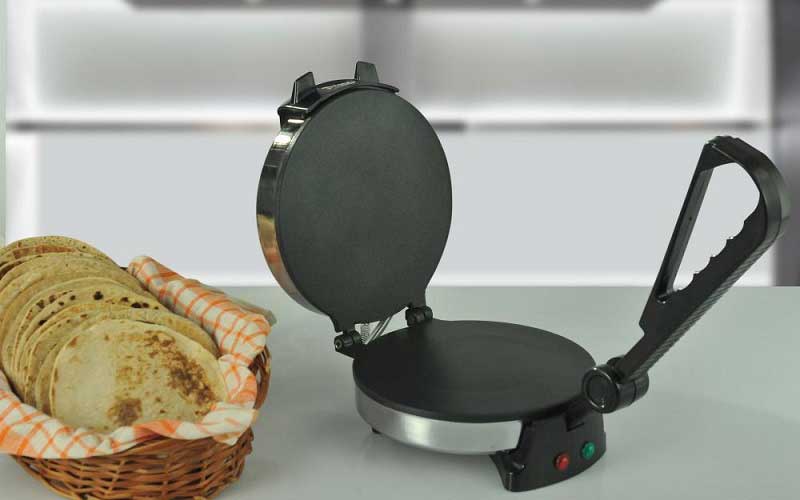 Everything is becoming smarter these days, so to keep pace with it our kitchen needs to get the modernized touch. As we already know there is a lot of new technology in the kitchen as well to make our day to day chores easier than ever. It is no more a trouble to deal with cooking at short intervals or when you have really less time in hand.
With the regular hectic schedule, no one has the energy or even the proper time to prepare hot and fluffy chapatis. In fact this also reduces your workload and makes it very easy to complete the work in a matter of minutes.
However, sacrificing a good meal along with chapatis is not a good option.
Top 5 Best Roti Makers in India 2018
Keeping these entire features in mind, we have made it easy for you, and have listed the best roti makers in India in this article.
1
BAJAJ VACCO 900W "Go-Ezzee" Non-Stick Chapati Maker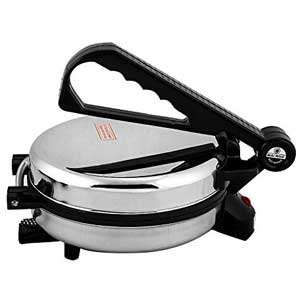 Bajaj Vacco has the first mention with their "Go-Ezzee" design in roti maker.
Making it a power saving device the power is 900 watt and the voltage is 230-240 volts in AC power supply.
This roti maker has LED light which works as an indicator whenever the power is switched on.
The plates are coated with Teflon as they serve as nonstick
Although it is named as roti maker, it can make a various number of parathas, khakhras, and even omelets.
2
Prestige PRM 3.0 900-Watt Roti Maker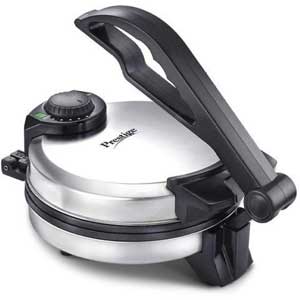 Prestige is the ultimate brand name when it comes to cooking appliances. They have launched some of the most efficient cooking gadgets by making the experience of cooking a very happy one. The roti maker Prestige has various features to make it one of the top class Roti makers in the market.
Along with the nonstick Teflon coating, the roti maker has a knob which allows adjusting the temperature of the plates.
The power consumption is 900 words which do not pressurize your electricity bill to get increased a lot more.
The company is providing a 1-year warranty for the product, within this period any kind of problem regarding the product will be solved without any cost.
3
Sunflame RM1 900-Watt Roti Maker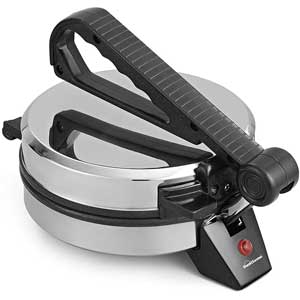 Sunflame with their strong customer support and various products have claimed to be one of the most popular and trusted brands in cooking gadgets market. The roti maker has some of the most unique features which we are going to discuss.
This roti maker has been installed with the safety measure with thermostat technology.
The product also has a very durable heating coil and a backlight indicator which makes the user aware of the power supply.
Stainless Steel body and the gnostic cover makes it very easy to clean the product, so you can clean your roti maker after every use just by using a clean cloth.
A very easy uncomfortable handle has been attached to the top of the product.
4
FAVY Eagle/National Roti Maker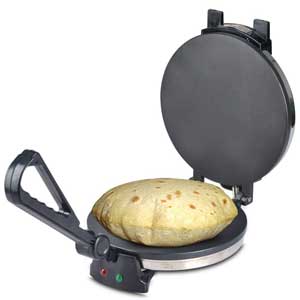 Favy Eagle/National Roti Maker is also a very translate product and is loved by many customers because of its consistent performance in the market.
This roti maker has a wide diameter of 8 inches which allows you to make broad and soft chapatis for your dinner.
The product comes with a CD which has the proper demonstration of how to use this roti maker properly, this makes it simpler for even a person who is not used to with such gadgets.
Try your favorite dishes like dosa, parathas and even a wrap to make a delicious meal.
5
MOLO New ROTI Maker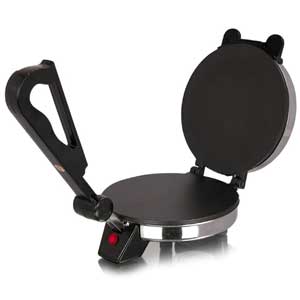 If you are frustrated with your everyday hard work to make chapatis and want to get rid of your rolling pin then Molo has brought you the perfect product which is a multipurpose roti maker.
It is a very fast roti maker which prepare your dish in a moment without compromising its quality, and the power consumption is only 900 watts so you don't have to worry about your electricity bill.
It has a handle which makes it easier to touch it even while the placer hot. The plates are coated to make them non stick plates.
The power indicator is there in the form of an LED backlight, which makes the user get a notification about the power supply.
If you want to make delicious pizzas, papads, and even khankhras, this is the ultimate gadget for you. So just at the product to your card and get your shopping done.