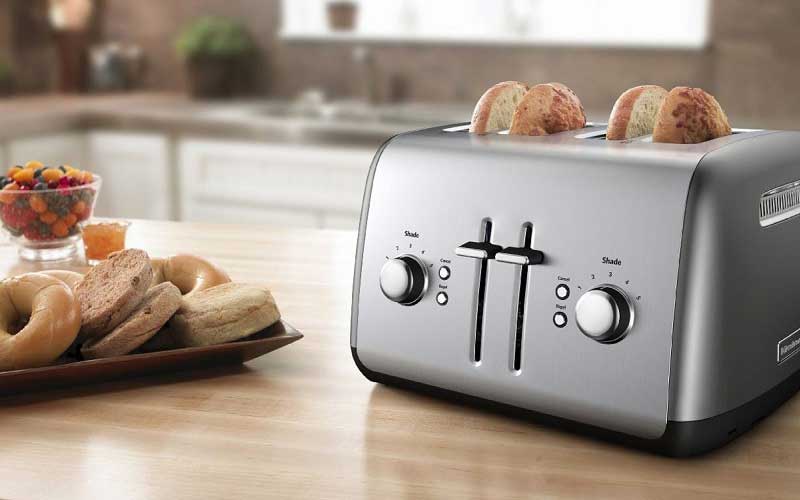 Are you a person who leaves home to work in a rush, so that you frequently miss your breakfasts?? Or are you a person who's too lazy to cook?? Read On- this article is made for you. Well, according to a physician, skipping breakfasts is counted as one seriously bad idea to follow. And laziness, well… Still, we've better answers! Buy a toaster! As simple as it sounds, a toaster ensures you a simpler effort to put to fill in your breakfast gaps. A toaster is undoubtedly one of the most simpler, portable and effective kitchen utility that a person should buy. It'll help you to save time, save efforts, save energy and well, save some good food for you!
Things to be noted before buying a toaster
Size
A size of a toaster always matters. Are you living alone? Are you a bachelor? Buy a portable one. Are you looking for a toaster that helps to feed a considerably big family? Go for the big ones!
Browning Control
Traditional toasters are almost bidding goodbyes to the markets. It's time to welcome toasters with advanced features like Browning Control. A Browning controller helps you to control the roasting/Browning of a bread. So yeah, look for a toaster with a Browning controller.
Power Consumption
Ratings like BEE helps you to get a fair knowledge of the power consumed by an electric device you buy. Go for a toaster that has a high BEE rating, ie, less Power consumption.
Energy Efficiency
The better efficient a toaster is with its energy, the longer it'll last.
Safety
Usually, Toasters are safer utilities. Still, you should go for a toaster with safe building techniques to avoid risks like electric shocks.
A toaster has a simpler working method. All you've to do is slide a bread slice through your toaster's tray with heating grills, set the Browning Control and wait for TOAST! 
Top 5 Best Toasters in India 2018
Keeping these entire features in mind, we have made it easy for you, and have listed the best toasters in India in this article.
Philips Daily Collection HD95/09 800 watt  2 slot toaster
Capacity – 2 slots.
Made out of quality plastic.
Adjustable Browning levels.
Top and bottom covers for cleaning bread crumbs.
Safety Stop button.
User-friendly.
Four level functioning – reheat, cancel, 7 browning levels and defrost.
Durable.
High performance.
Available in white color.
Morphy Richards AT 204 2 slices 800 watts Pop-up Toaster
Comes with utility technology (defrost/reheat).
Browning control.
Extra lift option for smaller size bread.
Dust cover.
The power consumption of 800 watts and 230 V voltage.
Comes with 2 years warranty.
Bajaj Majesty ATX 9 2-slice 800 watt Auto Pop-up Toaster
Uniform toasting.
7 heating options.
Durable.
Quality manufacturing.
Auto Pop-up.
Compact in size.
Performance perfection.
Morphy Richards AT-201 2 slice 650 watts Pop-up Toaster
Trustable brand.
Made out of great quality plastic.
Suitable for making sandwiches.
Anti-Slip base.
Crumb tray to collect breadcrumbs.
Durable and Compact.
Not suitable for joint family.
Philips HD 2647/20 1800 watt 4 Slice Toaster
Capacity – 4 slices.
Suitable for making cheese, butter, Nutella sandwiches.
Suitable for a joint family.
7 multiple toast setting.
Efficient and durable.
Available in metal/black colors.
You now know which Toaster to choose according to your needs and budget. Don't skip breakfast or skip cooking one from now, as your own user-friendly, easy cooking companion, Toasters are there at your services! Happy Toasting!