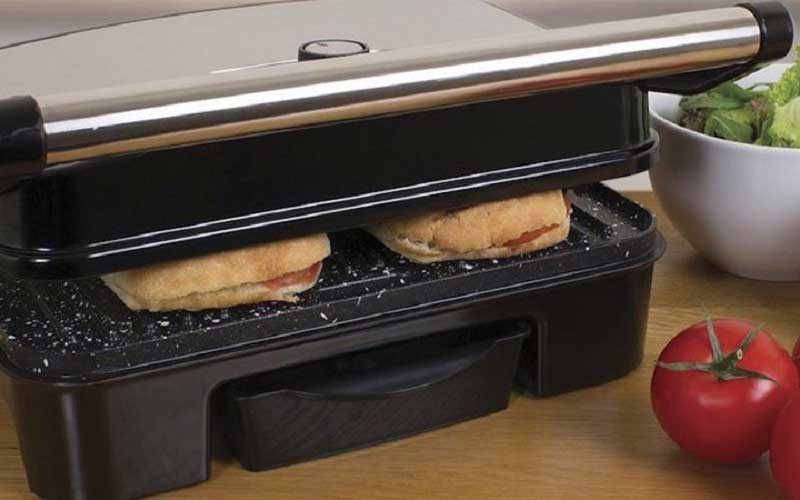 Nowadays not every family witness a slow and peaceful starts at the morning hours. Most of us will be familiar with that typical morning 'rush hours'. Amidst all those chaos what we miss usually is time for cooking a tasty breakfast and hence a breakfast itself! It is at this place, a Sandwich Maker comes into the picture. You can't even guess what changes a sandwich maker can gift you with. A fast cooking? A deliciously cooked sandwich? A time consuming kitchen pal? Yes! A sandwich Maker is all of these and more! But before buying this so-called kitchen pal for yourself, you should know more about a sandwich maker and the thing that should be taken care of before buying one.
Basically, there are two types of Sandwich Makers:
Four triangle Sandwich Maker – 4 parts making, cheap, commonly used, easy to cook.
Panini Press – Used for grilling purposes (Best for Pav Bajis, Burgers, Fast Foods etc).
Things to be taken care of before buying a Sandwich Maker:
Size – depends according to the family members. (Bigger for a family, smaller for bachelors/couples).
Surface type – best if teflon.
Cooking modes.
Non stick nature.
Handle type. There are stainless steel and plastic handles. Plastic handles may suffer breakages, while stailess steel handles don't. Still, the later conducts heat.
Top 5 Best Sandwich Makers in India 2018
Keeping these entire features in mind, we have made it easy for you, and have listed the best sandwich makers in India in this article.
1

Havells Tostino 2000 Watt Grill Sandwich Maker
Stylish Look.
Capacity – 4 sandwiches.
Non-Stick Coating to avoid sticking and helps in easy cleaning.
Comes with a Neon Light Indicator. You'll be alerted once the sandwiches are ready.
Has an oil collector tray to collect excess oil.
Temperature control knob to control the cooking temperature.
105 openable grill plate.
Consumes 2000 watts power and 220-240 volts voltage.
Available in Grey & Black colours.
Comes with a 2 years warranty.
Best in the market within a range of below 5000 rupees.
2

Prestige PGMFB 800 watt Grill Sandwich Toaster
Non Stick grilling plates for a smooth cooking experience and easy cleaning.
Oil consumption is minimal as oil is mostly absorbed or attimes even not needed.
Secure and user friendly.
Heat resistant body helps with better cooking and handling.
Anti-Slip base helps the sandwich maker being stable while cooking.
800 watts power consumption.
Comes with 1 year warranty.
3

Philips HD 2393 820 Watt Sandwich Maker
Best for bachelors/couples.
Helps to cook sandwiches in a fast and easy way.
Capacity – 2 sandwiches.
Strong and Durable.
Non-Stick Body helps in a non-messier cooking experience.
Cord Winding facility.
Push down lock system for ensuring secure cooking.
820 watts power consumption.
4

NOVA NT 233 HDG 1800 watts Grill Sandwich Maker
Suitable for a family as it can contain a good number of bread slices in one go.
Large space for more sandwiches.
Stylish look.
Along with sandwiches, suitable for Paninis too.
Available in black and white colours.
1200 watts power and 210-250 volts consumption.
Comes with a 1 year warranty.
5

Morphy Richards Sandwich Maker 3007 (G) 750 watts Grill Toaster
Capacity- 2 breads.
Suitable for newclear families, couples, bachelors.
Easy to clean.
Non stick body helps in effective cooking.
Durable.
Strong.
Comfortable handle helps in better handling.
Neon light indicator helps you with warnings when the sandwiches are ready.
Consumes upto 750 watts power and 230 volts voltage.
Comes with 2 years warranty.
We've just provided you with a brief list of the best Sandwich Makers available in India. Choose well and Cook well to have a good kick of taste before your morning chaos with these sandwich makers!