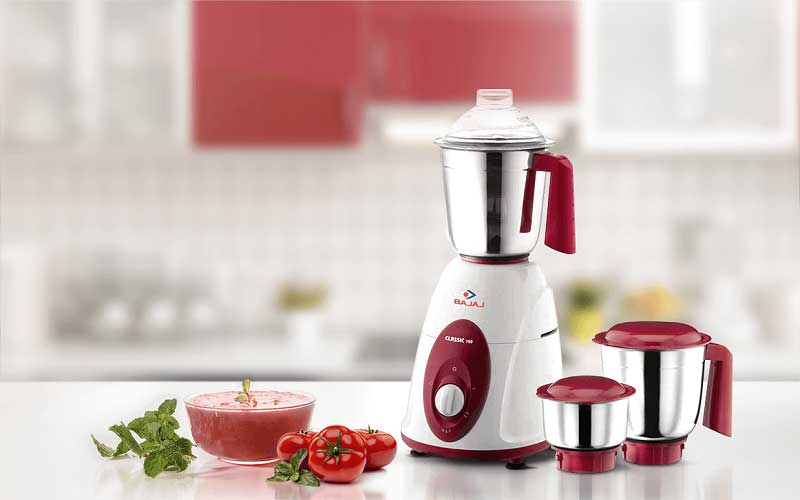 Indians are known for their food especially, masalas and chutneys, across the globe. And for that, you need an amazing grinder that will grind, blend all the necessary kitchen things without changing the taste.
We base our choices of buying a grinder on the customer reviews. But it is always advisable to choose your product according to your needs and only if it ticks all the right boxes.
Mentioned below are some of the best mixer grinders of India.
Features to look for in a mixer grinder

But before you buy your product, you should look for the following basic features in a grinder:
Juicer Mixer Grinder

You can opt for a juicer mixer grinder or just a mixer grinder. There is no such difference between the two except that the juicer mixer grinder comes with a jar for juices.
Safety measures

Check the safety features before buying a mixer grinder – like the safety lock system to ensure that the grinder doesn't accidentally start until the jar is fixed, vacuum footing cups to keep the grinder in place and prevent it from slipping down and the automatic load prediction which helps to break the circuit and the stops the mixer from working in case it is overloaded.
Grinder power

For dry masala grinding or chutneys, go for a mixer with 400 watts motor power. In case of batters, go for higher power.
Motor speed
It is important to know the RPM of your mixer grinder. Most of them have a range between 18000 to 22000 RPM. It is better to oot for low or medium rpm.
Jars
The mixer that you choose to buy should have at least 3 jars – one big sized, one medium-sized and one small sized to suit all your kitchen purposes.
Warranty
It is important to note the warranty of an electronic product as they tend to wear out and need sudden repairs. Also, check for service centers near your place before buying it.
Top 5 Best Mixer Grinders  in India 2018
Keeping these entire features in mind, we have made it easy for you, and have listed the best mixer grinders in India in this article.
1

Preethi Zodiac MG 218

This model tops the list of the best mixer grinders in India. The multipurpose mixer comes with a 750 watts vega 5 motor and is considered the best in the market. Other features include
Centrifugal Juicer
Facilities like chopping, blending, kneading and slicing
High-quality blender
Rotary speed controlling system
Blades made up of stainless steel
Safety features
2

Panasonic MX AC300S-H

Another superior mixer grinder comes packed with 550-watt power along with 3 jars. It has a juice extractor that you can choose to buy. Other features include
Double safety lock system
Vacuum foot cups
Overload protection indicator
Stainless steel jars
Piano type 3 speed control buttons
3

Philips HL 1645

Another value for money, this mixer grinder comes with 750-watt power capable of the heavy load along with 3 mixer and blender jars with fruit filters. Other features include
Advanced designing to prevent sound
Overload indicator
Safety measures
Reverse quadra flow jars
Front control buttons
4

Preethi Blue Leaf Diamond

The power pack mixer grinder has 750-watt power with three pieces of the jar, somewhat similar to the Panasonic model. Good for small families, the  notable features include
Shockproof body made of plastic
Stainless steel jars
The flexible lid to adjust jar capacity
Front control knobs for better operation
5

Philips HL 7720

Similar to other Preethi mixer grinders, Philips offers its competent variant. A hassle-free grinder comes with 750-watt power with advanced safety features. Other features include
Auto-off protection
Stainless steel body
Advanced ventilation system
Child lock feature
3 different multipurpose jars.