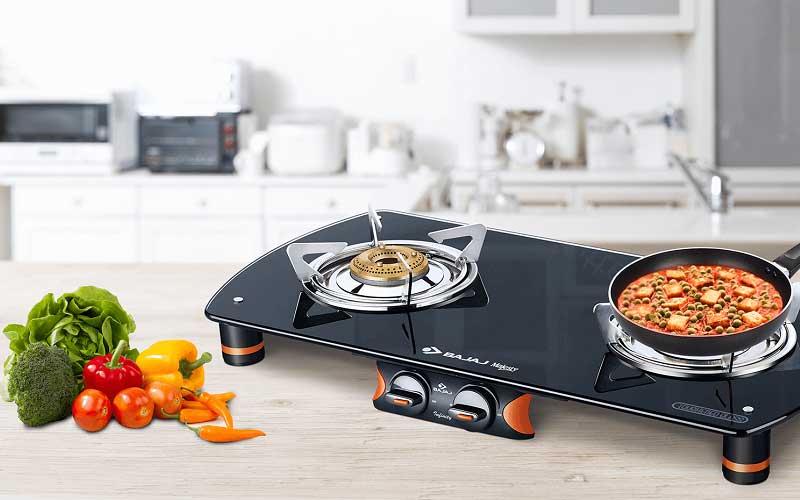 Gas stoves are the very essence of any kitchen. So the stoves should be upgraded with all modern technologies to make cooking more easy and attractive. Old gas stoves are now replaced by the new modern ones which are sleek in appearance and more polished.
Investing in gas stoves is not an easy task. Different gas stoves are available with different features. So you need to decide what exactly your needs are and buy accordingly.
Features of a good stove
Before buying a gas stove for your kitchen, you must check whether your stove comes with the following basic features:
The position of the inlet connection
Certification by the ISI
Consumption of gas and energy saving
Heating efficiency
Stability and maintenance
Number of burners
Ignition mode
In India, gas stoves can be of two types based on the number of burners and ignition mode.
A stove may have one burner to four burners. A 3 burner or a 4 burner stove is preferred by small and big families.
The mode of ignition can be manual or auto. They may be an electric ignition stove that can be ignited by a switch or sealed burner stoves that produce low heat and preferred more due to its easy maintenance.
Top 5 Best Gas Stoves in India 2018
Some of the best gas stoves are mentioned below with all their specifications to make it easier for you to buy:
1

Prestige Marvel Glass Top Gas Stove

Prestige is one of the most renowned brands and hence, it occupies the top position in this list. It is undoubtedly one of the best quality gas stoves in India with amazing features. It is black in color and has a glossy appearance. Other features include
Large frontal knobs that make handling the stove easily
Made of stainless steel and glass making it a long-lasting product
Vacuum footing to give extra support
Tandoori cooking pan
Two years of warranty
However, it has a manual mode of ignition and doesn't come with accessories like nozzles.
2

Pigeon Ultra Glass, SS Manual Gas Stove

Pigeon gas stove is one of the best manual stoves that has 4 burners. Available in black color, it is elegantly designed. It gives a great impression from its appearance and functionality. Other features include
Made of stainless steel and glass making it durable
Knobs for smooth operations
Rubber legs to prevent slipping
4 brass burners
The supplementary aluminum mixing tube
2-year warranty
The manual mode of ignition can be an on the downside.
3

Glen CT1043GTAL

This Glen stove comes packed with 4 brass burners and is highly qualified to make it to this list. Undoubtedly the best quality, it is certified by the ISI. The main features include
Made of stainless steel
An extra pan support of 4mm thickness
Pre-packed with nozzles and knobs
Can be customized with PNG gas
On the opposite side, it just comes with a one year warranty than the usual 2 years.
4

Prestige Marvel Glass

Prestige makes a comeback at the fourth position. It offers a variety of gas stoves and this model is no less. This efficient product comes packed with 3 burners and manual mode of ignition. Features included are
High-efficiency tri pin burners
Perfectly designed knobs
Toughened and durable glass top
Tandoori cooking pan
An extra drip tray
2-year warranty
5

Sunflame Classic 3B

Sunflame is another renowned brand dealing with kitchen appliances. It is a 3 brass burner gas stove and comes with a manual mode of ignition. Main features include
Made up of stainless steel and glass
A sheet metal base that is powder coated
Euro coated pan
2-year warranty
However, cleaning the stove can be a bit difficult due to the spaces between the burners.