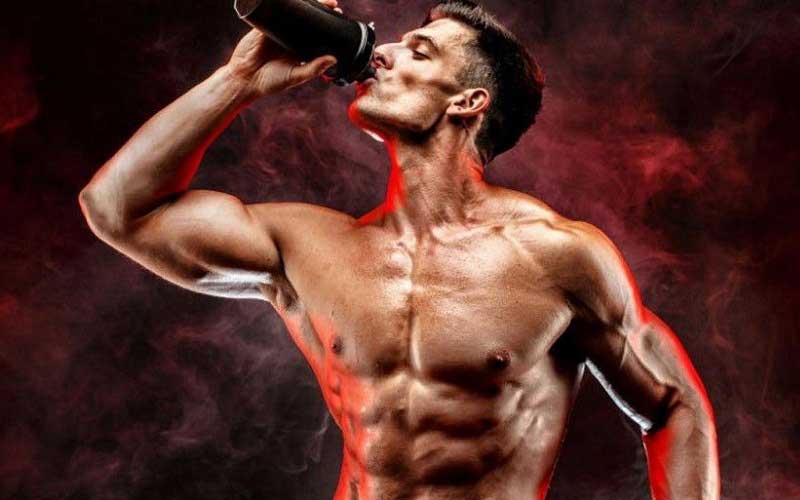 Staying fit is always important for a healthy lifestyle. So the health conscious Indian does all that is necessary to stay in good shape. From conscious changes in dietary plans to hitting the gym regularly, the rules to staying healthy are pretty simple and straight-forward-eat healthy, exercise and cleanse your system regularly. But as we all know to stay healthy it is not only important to workout regularly but also maintains a healthy and balanced diet. It is only by regulating both these aspects that one can get that perfect body. Another major addition to this fitness regimen is dietary supplements of which whey protein supplements are a major part.
Whey protein supplements are an absolute necessity for bodybuilding of which muscle building is an important part. They are your secret to the perfect six-pack abs and are very popular among fitness enthusiasts these days. Known to provide your body with the necessary nutrients and vitamins in the perfect quantities these supplements help you to cut down on your carbohydrate intake considerably and thus are the hero of the bodybuilding regimen. Whey protein powder is sold by various health brands because of their increased popularity but not all are as good.
Top 5 Best Whey Protein Supplements in India 2018
To help our Indian bodybuilders, we have compiled a list of top 5 whey proteins in India and these products have proven track record for muscle building.
1

Optimum Nutrition (ON) 100% Whey Gold Standard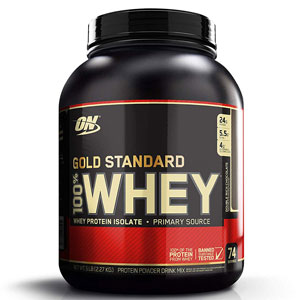 This whey protein is available at a reasonable price this dietary supplement provides you with 119kcals of energy per serving which contains 24gms or protein and just a tiny 1gm of sugar and 1gm of fat each. Looking at those numbers this is one of the best supplements available in the market. Whey protein for muscle building is one of the basic rules to swear by but one must not take any supplements without consulting with a proper dietician or doctor. This product is 100% vegetarian, available in multiple flavours and is best consumed as a meal during workout.
2

ISOPURE Low Carb Whey Protein
This is one of the best whey protein available in the market this product is about 95% protein with minimal fat and carbohydrate content. Packed with essential vitamins and nutrients this food supplement is like a complete package and serves you with 25 gms of protein per serving. Just like any other whey protein supplement it is best taken in consultation with a specialist and gives best results when coupled with a work-out routine.
3

BSN Syntha-6 Protein Powder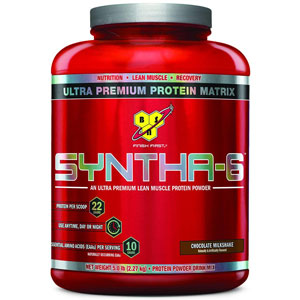 BSN Syntha-6 protein powder is providing you with proteins from six different protein sources like milk, eggs, soy etc. this supplement serves you with 22gs of protein per serving. Each serving is also packed with 5 gms of fibre and 190 gms of essential amino acids making it a complete food supplement fit to be consumed while bodybuilding as it promotes muscle build-up and repair.
4

MuscleTech Nitro Tech Performance Series Whey Protein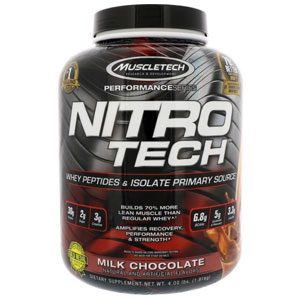 This whey protein is loaded with the two purest forms of proteins- whey protein isolates and whey peptides, this brand seeks to serve you with the most advanced technology in whey protein supplement for effective muscle building. Each serving contains 30gms protein, 3gms creatine, 53gms glutamine and precursors and 6.9 gms of three essential amino acids leucine, isoleucine and valine. Available in chocolate fudge brownie flavour this supplement is best consumed with water or milk.
5

MuscleBlaze Whey Gold Protein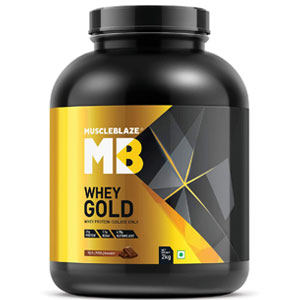 MuscleBlaze Whey Gold Protein do not be fooled by the rich milk chocolate flavour of this product, although that might sound to be loaded with carbs and fat, it is, in fact, the best packaging of whey protein in the market. Serving 25 gms of protein per 30 gms of the supplement, this product is also filled with essential amino acids and nutrients good for the body and good for your muscles. Containing a minimum of 1.83 gms of carbs and 0.46 gms of fat, it is, in fact, the gold mine of proteins and one of the best whey protein in India currently.
It is best to avoid artificial flavours while consuming whey protein powder as they reduce the nutritional value and purpose of the product considerably.
So what are you waiting for? We have presented the most versatile list of best performing whey proteins available in India for you.